Effective anti-stretch marks cream in pregnancy
We already know everything we need to know about stretch marks: how they occur, when they appear and I have even given you some home remedies that, although they really work to prevent them or reduce them if they have already appeared, we may not feel too confident testing them on our body. Although, once they have appeared, we do not lose anything in trying some home tricks to try to reduce them, gambling on this coin when we are trying to prevent them may seem like a bad bet, for that reason, we are going to review some of the most effective ways to reduce them.
effective anti-stretch mark creams in pregnancy.
In this article we will review a list of
10 reliable anti-stretch mark creams and oils
that we can find in the market. As an anecdote, notice that many of them are based on some of the ingredients of our home remedies.
Keep in mind that the creams we will see below are specific to avoid or prevent stretch marks, not to eliminate them, although some can do both functions. In another article we will see the specific creams to combat them once they have appeared.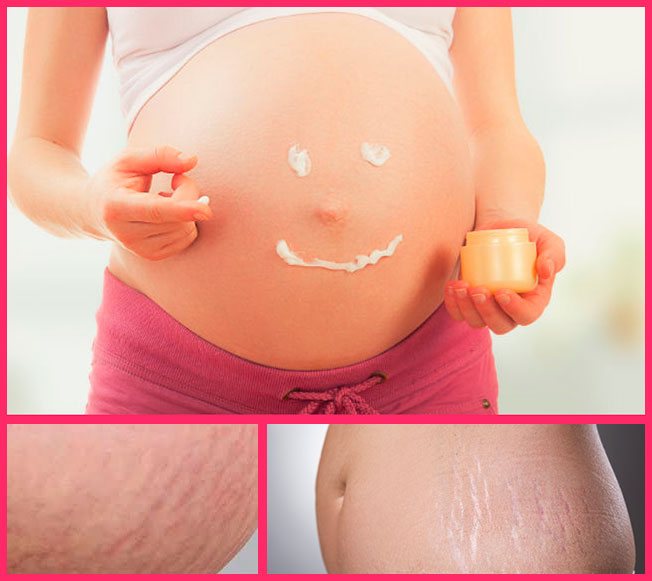 When to start using anti-stretch mark cream in pregnancy
We have already said that the best way to attack stretch marks is to prevent them, therefore,
we should start applying the chosen anti-stretch mark cream from the very first minute we know we are pregnant.
following the manufacturer's indications and generally twice a day, increasing to a third application at the end of pregnancy. There are some manufacturers who indicate that we can start from the first trimester,..., but it is best to start as soon as possible.
Amazon is one of the most important stores on the Internet, 50% of the turnover of Internet purchases made in the U.S. were for Amazon, with this you get an idea of how big it is, so I have found that the creams I'm going to talk about you can buy them directly there so you will not have to go from pharmacy to pharmacy looking for the one you are interested in. At the end of the article you have the list of all the creams, with their prices and access to Amazon so you can go a little deeper into its features and you can buy it if, finally, you are convinced.
Well, here is the list, above all, although as I mentioned in a previous article, I used Trofolastin during my pregnancies and, to tell you the truth, it worked very well. In the list you have a variety to choose from in terms of characteristics, mode of presentation, prices, ... and you can choose the one that suits you best. All of them are from well-known brands in the world of creams: brands of baby creams, moisturizers, anti-wrinkle and scar repair creams, ...
List of anti-stretch mark creams and oils
Bio-Oil - Body Oil for Stretch Marks - PARABEN FREE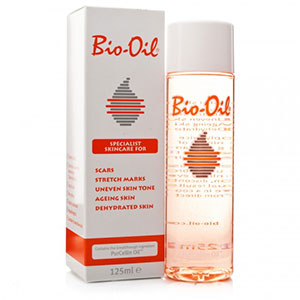 Although it may appear to be a young brand, it really came on strong as early as 20104. It has received 309 awards related to skin care and becomes a number 1 star product in many countries and possibly,
the best anti-stretch mark oil
of the moment.
Bio-Oil anti-stretch marks
is an oil specialized in skin care, which helps to improve the appearance of scars, stretch marks and skin blemishes. It is also effective against skin aging and dehydration. During pregnancy, it should be applied from the beginning of the second trimester on areas prone to stretch marks, such as the abdomen, chest, lower back, hips, buttocks and thighs.
It is made up of different oils, including calendula oil, and is enriched with vitamins A and E.
Score 4.5: It is very effective even when we already have stretch marks but contains some not so "Bios" ingredients, not recommended for more delicate skins and for the breast during breastfeeding.
Mustela Stretch Mark Prevention Cream - PARABEN FREE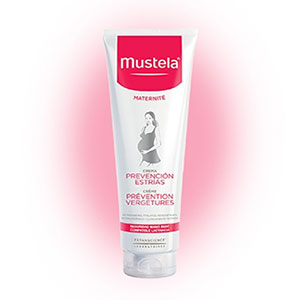 Specifically formulated for mothers-to-be and new mothers, it prevents the appearance of stretch marks thanks to its unique combination of active ingredients of natural origin: avocado peptides, arabinogalactane, beeswax and shea butter.
According to the manufacturer, 96% of pregnant women who have used the
Mustela Stretch Mark Prevention Cream
have not had stretch marks during pregnancy. It is recommended to apply it from the first month of pregnancy and also after childbirth. Twice a day with a massage to ensure full absorption. The Stretch Mark Prevention Cream has a delicate fragrance, to respect the greater olfactory sensitivity.
Score 4: Texture and absorption very good although it is less effective than other options especially when they have already appeared. Suitable for breastfeeding but remember to keep the nipple clean.
Welleda Stretch Mark Massage Oil - PARABEN FREE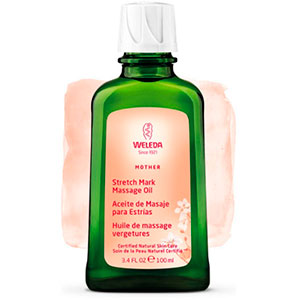 It is an oil based on sweet almond oil. You can apply it on the belly, chest avoiding the nipple area, buttocks, twice a day at the beginning, going to three times a day in the last month when the skin makes more effort. After delivery, it is sufficient to massage once a day for 6 weeks.
Welleda
will help you prevent the appearance of the dreaded stretch marks. Developed together with pharmacists and midwives, and dermatologically tested, being suitable even for sensitive skin. Really an option to take into account and also very popular.
Score 4.2: 100% natural, free of preservatives, dyes, synthetic perfumes and substances of petrochemical origin. Good aroma but being a massage oil, it needs much more time to achieve its complete absorption.
Woman ISDIN Anti-Stretch Marks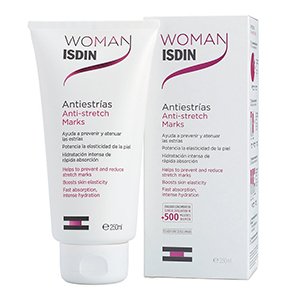 ISDIN is a brand known by all, especially on the subject of sunscreen is one of the leading brands. This cream formerly known as Velastisa, is still a very soft cream to the touch and when applied leaves the skin super well. It also absorbs quickly so you can apply it and get dressed immediately because it will not stain your clothes. Although this can also work against us because it is so light and easy to apply that it may wear off a little faster than other creams.
Womam ISDIN Anti-Stretch Marks cream is a very good cream in terms of texture and absorption. Its ingredients base: centella asiatica, hydroxyprolisilane, rosehip oil, shorea butter and vitamin E.
Score: 4.3: The ISDIM brand could not do better. Good smell, good application, absorption a little worse than Mustela and in efficacy it does its job in prevention. ISDIN has a product suitable for every moment during pregnancy, after pregnancy and for the breasts. It is therefore less generic than its competitors.
Suavinex Anti-Stretch Marks - PARABEN FREE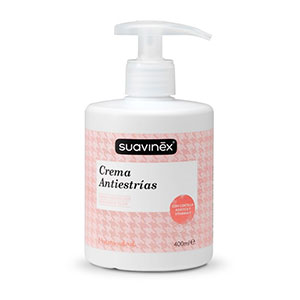 The main ingredients of this anti-stretch mark cream are rosehip extract and centella asiatica, and it is enriched with vitamins E and F. It also contains ivy and horsetail, rich in silicon, which reinforce the preventive action and facilitate the massage and absorption of the active ingredients.
One of its strong points is its pleasant scent, designed for the sensitive pregnant woman's sense of smell. Not all creams can boast this. It is a basic among the products to take care of yourself during pregnancy.
Suavinex also has another oil option based on rosehip, sweet almond and jojoba oils.
Score 4.5: Paraben-free, caffeine-free, petrolatum-free and artificial colorant-free formulas. Sweet scent, good application, considerate
"best anti-stretch mark cream pregnancy"
.
Trofolastin Anti-Stretch Marks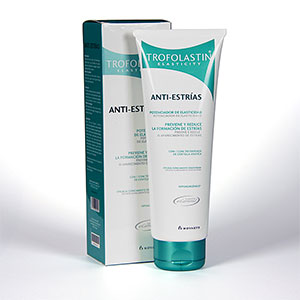 There is little I can say about this cream that I haven't already said in
this article
. But, except that it doesn't smell very good, it is a cream that meets all the requirements to be considered one of the best. It worked fantastically well for me. Studies have been done on it to back it up. Its main ingredients are: Centella asiatica, wheat germ oil (Vitamin E, F), collagen hydrolysate and elastin hydrolysate.
Score 4.5: Effective anti-stretch mark cream. Although it has different options for breasts or postpartum firming, the pregnancy one can be used just as well. This is the one I used and I am stretch mark free. Only its smell can detract from its rating.
Palmer's Body Lotion - PARABEN FREE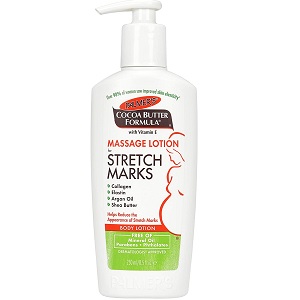 Cream based on cocoa, an ingredient that the Palmers brand itself calls "nature's super ingredient" for its superior healing properties and its ability to help the skin retain moisture".
This cream is made from raw cocoa butter that is ethically and sustainably sourced, in addition to other ingredients common among these types of creams. Free of mineral oil, parabens and phthalates. Hypoallergenic and dermatologist approved. Suitable for sensitive skin.
Score 4.3: This cream is a very good choice, advisable in pregnancy from day one is one of the best alternatives. It has a pleasant and light smell of cocoa, very pleasant to the touch is applied very well and the skin absorbs it quickly and notes that is hydrated all day.
Rilastil Smagliature - PARABEN FREE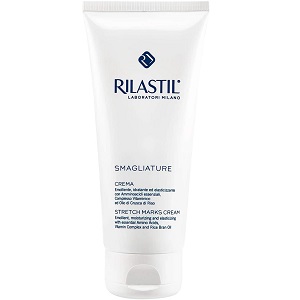 We add to the list a new entry in this 2020, a cream of Italian origin, suitable for any area of the body: Abdomen, Hips, Buttocks, Thighs and Chest.
Caffeine-free, dye-free, paraben-free, fragrance-free, allergen-free, again, a clinically tested cream suitable during pregnancy and breastfeeding.
Little to say about this cream, which is a new candidate for the first places for its efficacy without "unsuitable" ingredients.
Its ingredients: Isoamino acids, allantoin, vitamin B5, ialuramine, Sodium PCA, rice bran oil, ...
Score 4.2: A cream that is a little different in terms of the compounds we are used to and makes it the choice when other creams have not worked for you or to combine with others.
The smell is very pleasant and so is the texture, it absorbs quickly and well.
Anti-stretch marks firming cream, by Olivolea - PARABEN FREE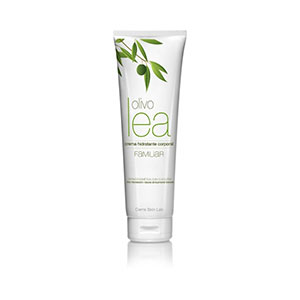 Its slogan, a perfect and smooth skin is a reaffirmed and cared skin. The line
Olivolea
is especially indicated in stages of life such as pregnancy and breastfeeding, where creams containing natural oils such as olivolein, which help to keep the skin well hydrated, making it more elastic and recovering its natural suppleness, are very useful.
Its main active ingredients are: Aqua, Extra Virgin Olive Oil from first cold extraction with high oleic acid content, Centella asiatica extract , Tocopherol.
It is not only the inevitable weight gain during pregnancy that causes stretch marks, but also the lack of skin elasticity. To help prevent stretch marks, a daily massage with nourishing creams is recommended. You can start from the third month of your pregnancy by regularly applying anti-stretch marks firming cream during pregnancy and breastfeeding. Remember to use neutral and nourishing soaps in the shower and when you dry your skin, apply the cream with a gentle massage all over your body.
Score 3.8: Their products are made without essential oils, without dyes, without alcohol, without parabens, and only when the product requires it with anti-allergenic scents. It is not such a well known brand, but it has very recommendable products although, perhaps in the stretch marks area it is a little weaker. It is very absorbent, so much so that you can get dressed immediately and it is very moisturizing.
The Tummy Rub Butter, Mama Mio - PARABEN FREE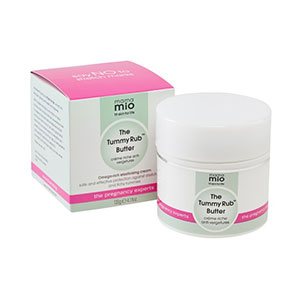 It is the brand's flagship product
Mama Mio
During the nine months, on average, the expectant mother usually spends 4 jars of
Tummy Rub Butter
in its 120gr edition. There is also a limited edition SUPERSIZE! Of which you will only need two and getting a saving of about 40 € in the treatment of the entire pregnancy.
They recommend using it every day during pregnancy and continuing to use it at least four months after giving birth, so that the return to normality goes smoothly.
Mama Mio is a brand free of parabens, petrolatum, artificial colors, xenoestrogens, PEGs and phthalates as are all those we are naming.
It contains shea butter, organic Sacha Inchi oil, organic argan oil, organic coconut oil, organic avocado oil, organic sweet almond oil, organic olive oil, rosehip oil and vitamin E, each of them contributing to prevention.
Score 4.2: Very effective, it is the flagship product of the brand. It has no parabens, petroleum derivatives, synthetic fragrances, PEG's, phthalates or glycols. Perhaps its higher price makes it lower its quality-price ratio.
Repavar Anti-Stretch Marks Regenerating Cream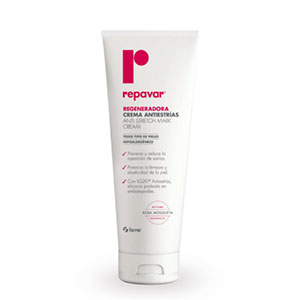 Repavar is a well-known brand of healing creams and, therefore, it could not miss in this list its anti-stretch marks product.
Repavar cream
will help you both prevent and repair stretch marks and cracks due to pregnancy, breastfeeding or weight loss. It should be applied during pregnancy and a few weeks after twice a day as a general rule.
Its main ingredients are: Rosa Mosqueta R. rubiginosa oil, LQ20® anti-stretch marks, pure concentrated extract of Centella asiatica and Hamamelis water.
Score 4: Rosehip is widely used as a skin repairer and the Repavar brand is an expert. It is a highly effective product in both prevention and repair when stretch marks are already present.
Q10Plus Nivea Anti-Stretch Marks Dry Oil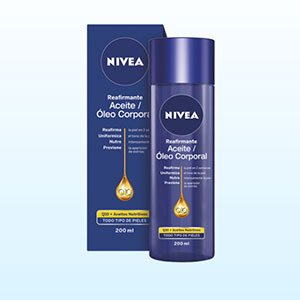 Nivea, the well-known brand of the blue can, presents a product with ingredients such as Coenzyme Q10, macadamia oil and avocado oil to firm and prevent stretch marks.
Perhaps,
Nivea
is, in fact,
the first anti-stretch mark cream
used by our moms. Being simply a moisturizer, its use was so widespread that many moms, like mine, also used it to prevent the appearance of the hated stretch marks.
An ideal product for women who in addition to an ally to firm their skin are looking for a product that prevents the appearance of stretch marks that often appear in vital moments such as pregnancy, hormonal or weight changes.
Score 4: With a delicate and pleasant aroma that will please any woman. The name Dry does not suit it very well because, like other oils, it costs a little to be completely absorbed. Perhaps not as effective a product as others but its price and brand reputation earns it points.
How to use anti-stretch mark cream or oil.
As you can see, they all agree on how to use them. Preferably, twice a day, once in the morning and once at night. Massaging in circles until it is completely absorbed by our skin. It is advisable to do it with clean and dry skin, you can do it after a shower with a neutral bath gel. Try to avoid the nipple area to keep them clean, especially during breastfeeding. You can also make combinations for example using an oil after the shower and a cream in the other application, trying to combine also the type of base ingredients of the chosen products, in this way you will be doubly protected.
One of the things you should take into account when choosing your ideal cream is, first of all, that it has a good reputation, forget about miracle creams, that it has a good absorption, that it has a good smell (although trofolastin anti-stretch marks does not have it and it is the one I used and is the one I can really recommend) and an adequate quality price, not because it is the most expensive will be the best. Not all creams have the same smell or the same degree of viscosity, it is best to ask for a test at your pharmacy to see which one is made for you, but do not let it be your only criterion.
Forget the false myths that any moisturizer will do, any moisturizer will moisturize. Keeping your skin hydrated is one of the main aspects to keep in mind to prevent stretch marks, but it is also important to have nourishing elements that will give elasticity to your skin to withstand the change.
Below is a list of the most common ingredients and their role in skin care.
Usual ingredients

Rosehip oil: High healing power, rich in omega 3, 6 and vitamin C.

Organic Sacha Inchi oil: Full of antioxidants, omega 3 and amino acids.

Organic herring oil: Nourishes, moisturizes and improves skin elasticity. Rich in omega 9 and 6

Vitamin E: Keeps skin hydrated and nourished, helping to protect against stretch marks.

Calendula oil: Has multiple properties including anti-inflammatory, soothing, moisturizing, nourishing and anti-aging.

Beeswax: Nourishes the skin softening it and provides body to the cream in a natural way.

Shea butter: It is a natural cellular regenerator that helps prevent skin and hair aging and has an intense and long-lasting moisturizing and nourishing power.

Centella asiatica: High moisturizing healing power and provides elasticity to the skin.

Collagen: It is responsible for keeping our cells together, and helps to improve the firmness and elasticity of the skin as well as the health of bones, joints, ...

Vitamin A: Also known as retinol, it helps to keep the skin soft, supple and healthy, as well as to the growth and repair of body tissues.

Organic coconut oil: soothing, very rich in lauric acid, a very potent omega fatty acid.

Organic sweet almond oil and organic olive oil: Ideal for sensitive skin, soothes and protects as well as moisturizes.

Organic avocado oil: Rich in folic acid and omegas that moisturize and protect the skin.

Organic Shea Butter: Provides a protective barrier to lock in moisture and helps build elasticity.
So far, this is the list of the 10 creams, possibly the best and most known on the market. As you have been able to see, many of them coincide in their formulation using ingredients that we have already seen in the home remedies.
Other not so "natural" ingredients: Parabens
Parabens are another ingredient that anti-stretch mark creams and other cosmetics usually contain. If you want to know more about parabens you can read this article:
Parabens in creams
.
Parabens are chemical components used as preservatives in anti-stretch mark creams and other cosmetics.
Although it is not one hundred percent confirmed, there are studies that indicate that these ingredients could be responsible for alterations in the hormonal balance of our body, an action known as endocrine disruptor. The increase in hormonal problems in recent decades or diseases such as cardiovascular disease, diabetes or obesity, could be related to these substances so present in our daily lives. And some other consequences that are associated with them are: breast cancer, sexual problems in men, premature aging, skin allergies, ...
Our advice is that during pregnancy you should try to avoid, as far as possible, the use of products with high concentrations of parabens or, even better, look for alternatives that do not contain parabens.
It should be borne in mind that the use of these products is duly controlled by organizations such as the European Union, the European Commission and the European Union.
Spanish Medicines Agency
... which are in charge of ensuring that no product put on the market is hazardous to health and propose a series of limits to the concentration of these compounds that products may contain.
However, I will update the list of creams recommended here by indicating next to the title of the cream whether or not it contains any parabens.
Remember that in addition to hydrate on the outside you should hydrate on the inside, drink water, eat healthy and do gentle physical exercise, with this you will keep stretch marks at bay.
The rating given to the products is a personal opinion based on my own experience and opinions of other bloggers and girls I have discussed the topic with.