Bio-Oil the best anti-stretch mark oil of 2021 - 2022
The Bio-Oil anti-stretch mark oil is the world's leading product for the treatment of stretch marks and scars.
Many women use it for its high effectiveness in the recovery of the skin against different problems such as stretch marks, scars, ... Recent moms, teenagers, older women who begin to accuse the passage of the years, even celebrities like Khloé Kardashian or have done of
Bio-Oil the best-selling anti-stretch mark oil in 2020
and previous years.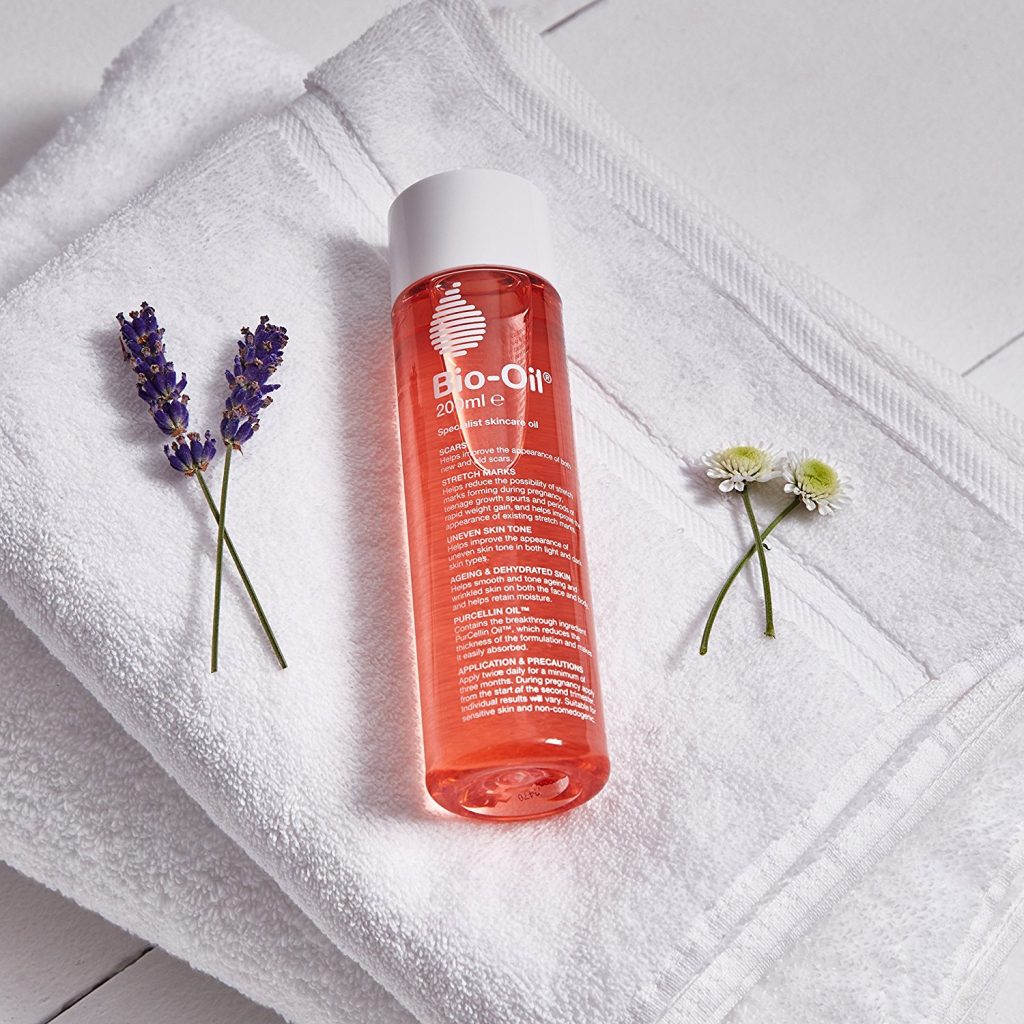 Characteristics:
Smoothes and tones signs of aging, sagging skin and wrinkles on face and body.
Helps prevent the formation of marks during pregnancy and improves the appearance of existing marks.
Helps prevent the appearance of skin tone irregularities
Helps prevent the appearance of stretch marks
Suitable for sensitive skin
Ideal for face and body
Hypoallergenic action
Dermatologically tested
Different packaging formats: 60ml, 125ml and 200ml
What is Bio-Oil used for?
Stretch marks:
We have talked a lot on our website about stretch marks and we are clear that once stretch marks appear, eliminating them is practically impossible, but the results you will obtain with Bio-Oil will be incredible.
Scars:
Bio-Oil oil can also be used to disguise scars, applying the oil after the wound has completely healed, applying it for at least 3 months.
Skin blemishes:
Bio-Oil is also effective in eliminating skin blemishes caused by inconsistent melanin production due, for example, to excessive sun exposure or the use of low quality skin lightening products or other causes such as hormonal changes during pregnancy, menopause, the use of oral contraceptives, ... Bio-Oil will help us to improve the appearance of our skin.
Aged skin:
We can list lots of properties that Bio-Oil components have that will help rejuvenate our skin: they soften, smooth, make our skin more supple, elastic and their moisturizing power will help improve the texture, tone and appearance of our wrinkles and expression lines.
Dehydrated skin:
Believe it or not, a daily bath with (normal) soap and water can contribute to the deterioration of an invisible layer of oil on the surface of the skin that acts as a barrier preventing moisture from disappearing. Bio-Oil complements this layer by helping to restore its moisture-retaining function.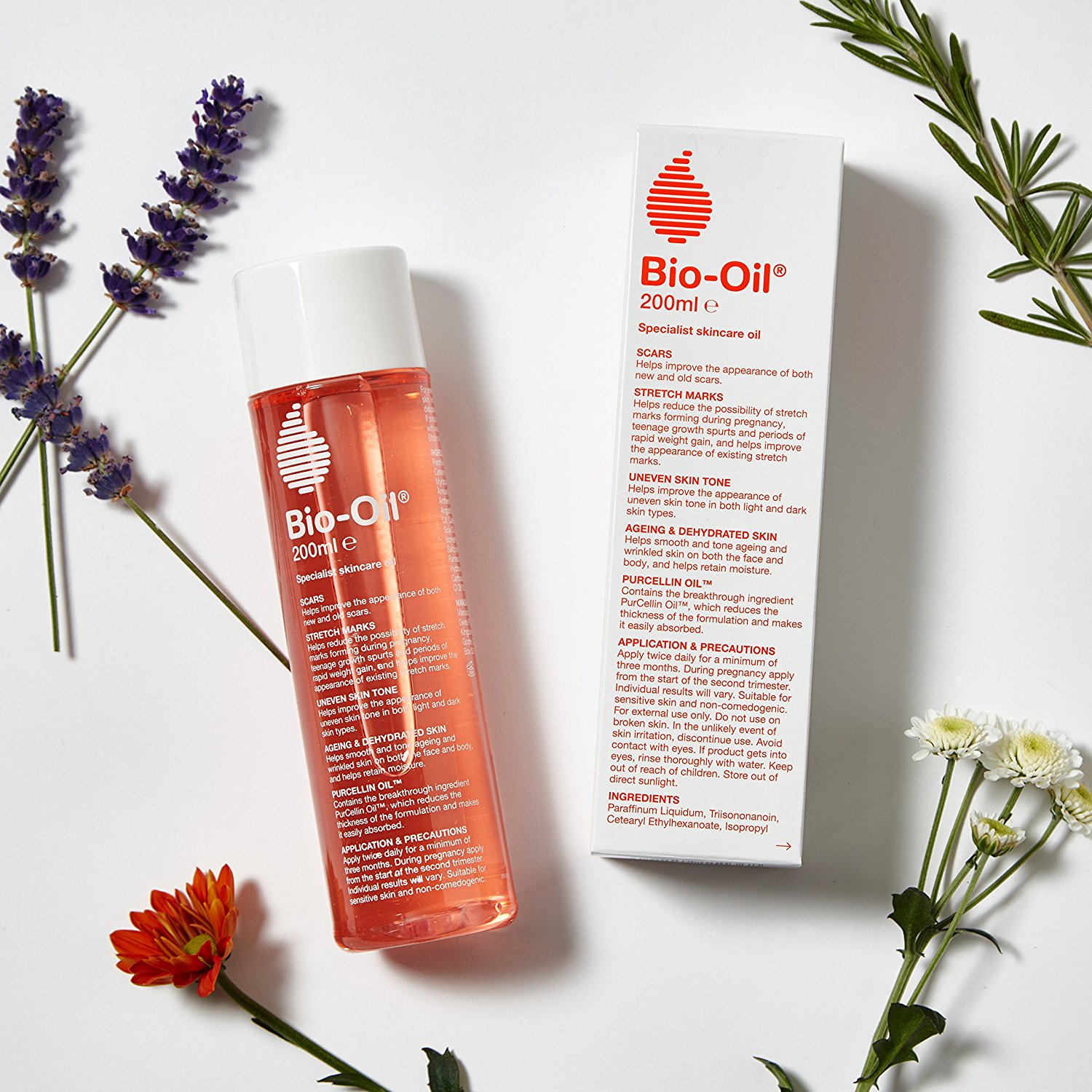 Formats and prices
You can find Bio-Oil in various formats of 25ml, 60ml, 125ml and 200ml, adapting the size according to the use you want to make of it. You can carry the 25ml in your purse for any occasion you may need it but, what is best to buy for daily use is the 200ml as it will be cheaper. Of all the places I have seen this product, Amazon is the place to go.
cheaper
. The
Bio-Oil price can range from 16$ to 20$.
the 200ml bottles. The price of Bio-Oil in the other formats are approximately 8$ for the 60ml and 12$ for the 125ml.
How to apply Bio-Oil
Bio-Oil oil can be used for both body and face. Its effect will vary depending on each person but, as a general rule, a minimum application of 2 times a day and for a minimum of 3 months will suffice.
We will treat the affected area of stretch marks, wrinkles or spots, with circular massages.
During pregnancy, the recommendation of the
manufacturer
is to use it from the beginning of the second trimester on areas prone to stretch marks, such as the abdomen, chest, lower back, hips, buttocks and thighs, but our recommendation is to start using it as soon as possible.
If you use sunscreen after Bio-Oil, remember to apply the sunscreen once the oil has been well absorbed by the body.
Since it is oil, it is more difficult to apply than an oil.
anti-stretch marks cream
but you'll learn quickly. It absorbs quickly and does not leave the skin oily, but wait until it is well absorbed before getting dressed to avoid staining your clothes.
I leave you an internet video of a television program where you can see how to do a massage of this type.
Before buying Bio-Oil you should know
All its components have undergone the relevant safety evaluations in accordance with the European Parliament regulation on cosmetics. Its composition is free of
parabens
and their toxicological profile, chemical structure, inclusion level and total daily exposure level of each component have been evaluated and are considered safe even for pregnant women.
The celebrities' anti-stretch marks
We already mentioned at the beginning that celebrities like Kim Kardashian also use it but there are many more to add to the list such as Helena Christensen, Victoria Beckman, her friend Melanie Brown, Denise Van Outen, Jennifer Connelly, Sienna Miller, Natalie Portmanwho used it during her pregnancy as well as Alison King, Kym Marsh, Charlotte Church, Kara Tointon, Helena Christensen, among others, and many other Spanish celebrities who have also revealed their secret as Mar Saura, Teresa Baca, Clara Alonso, Mar Flores, Berta Collado, Clara Alonso or Patricia Conde.
Bio-oil ingredients
Its manufacturer assures that it does not contain parabens or other harmful components.
Vegetables:
Calendula Officinalis Flower Extract (Calendula oil), Lavandula Angustifolia Oil (Lavender oil), Rosmarinus Officinalis Leaf Oil (Rosemary oil), Anthemis Nobilis Flower Oil (Chamomile oil), Rosmarinus Officinalis Leaf Oil (Rosemary oil).
Vitamins:
Retinyl Palmitate (Vitamin A), Tocopheryl Acetate (Vitamin E)
Oil base:
Paraffinum Liquidum, Triisononanoin, Cetearyl Ethylhexanoate, Isopropyl Myristate, Glycine Soja Oil, Helianthus Annuus Seed Oil, BHT, Bisabolol, Bisabol.
Fragrance (Rose):
Parfum, Alpha-Isomethyl Ionone, Amyl Cinnamal, Benzyl Salicylate, Citronellol, Coumarin, Eugenol, Farnesol, Geraniol, Hydroxycitronellal, Hydroxyisohexyl 3-Cyclohexene Carboxaldehyde, Limonene, Linalool
Color:
CI 26100
Final Conclusion: The best anti-stretch mark oil in recent years.
Surely, we are facing one of the best anti-stretch mark remedies of all time without counting other remedies such as surgery or laser.
Only in the case of pregnant or breastfeeding women (applied to the breasts) we might choose another type of product such as a Suavinex anti-stretch mark cream or trofolastin cream.
Recommended from mothers to daughters, used by many celebrities who need to be at 100%.
Bio-Oil the best anti-stretch mark oil has been awarded since 2004 until now in multiple occasions all over the world as the best oil, the most specialized product or the favorite anti-stretch mark product.
. We and thousands of women around the world endorse it.
The results are there, do not hesitate and try it, it will not leave you indifferent.
All prices include VAT. Shipping costs vary according to product.