How many weeks pregnant am I?
Throughout the pregnancy you discover surprising things, many changes occur in the woman's body and the baby evolves rapidly. Everything is moving very fast.
This is one of the reasons why pregnancy time is usually measured in weeks and for the gynecologist it is easier to measure these advances in this way. As we are not used to quantifying time in this way, this, many times,
If this question leads us to ask how many weeks pregnant I am, let's see how to calculate the weeks of pregnancy.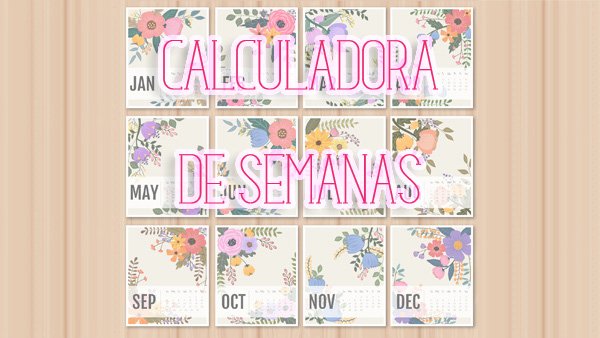 One thing that caught my attention during my first pregnancy was my gynecologist's way of counting the weeks. As a usual rule, gynecologists start counting from the day of the last period and take as a reference that the pregnancy will last 40 weeks. I was clear about the possible day of my conception but he did not take it into account. Our intuition to calculate the possible date of birth of our baby would be from the day we assume that we have become pregnant plus 38 weeks which would correspond to 9 months. If we look closely, actually, the two dates will coincide since a woman usually ovulates two weeks after the last period, here we have the two weeks of difference between the gynecologists and our accounts. The gynecologist, by making the calculation in this way, makes sure to have a starting date that leaves no room for doubt.
NOTE: As a general rule, the duration of a pregnancy is established as 38 weeks, but between week 37 and week 42 is considered normal.
Sometimes, we have also heard the time of pregnancy expressed in two figures, for example, 6 plus 3. If you notice, in ultrasound scans, where the time of pregnancy is calculated according to the measurements of the fetus, it is usually identified in this way. These two numbers correspond to the week of pregnancy plus days, in the example above it would be 6 weeks and 3 days. Generally, we tend to round these figures and speak only in the form of weeks.
Therefore, to summarize and following the format used by gynecologists, when you ask yourself
"how many weeks pregnant am I?"
We will count from the day we had our last period until the current day.
To make it easier for you, since it is often difficult to count in weeks, here is a pregnancy week calculator that you can use to keep track of your pregnancy time.
Pregnancy weeks calculator
If you still don't know if you are pregnant, you can check it with our
free online pregnancy test
and if you want to be more sure, buy a pregnancy test here you can see
best value for money pregnancy test
. Or dare to make a
home pregnancy test
at home.
NOTE: If you find that this is impossible, especially for our partners ;o), what I did was to write the number of the week of pregnancy in front of each week on the calendar we have on the fridge.
Everything you need to know if you are pregnant: pregnancy test, home pregnancy tests, first signs of pregnancy online, follow up tests. We also talk a lot about stretch marks, white stretch marks, red stretch marks, stretch mark treatments and an anti-stretch mark cream special.

ENLACES DE INTERÉS
About site
Cookie Policy
Legal Notice
Privacy Policy