Clearblue digital
There are several digital pregnancy tests on the market, such as this one
bluetooth pregnancy test
but today we will talk about, perhaps not the first, but the best known and best selling, at least in Spain: the
ClearBlue digital pregnancy test
.
As I said, there are other digital tests such as First Response, Evatest, ..., and the operation is very similar between them but, nowadays, they are difficult to obtain and even expensive. For this reason, we are going to focus on the ClearBlue brand.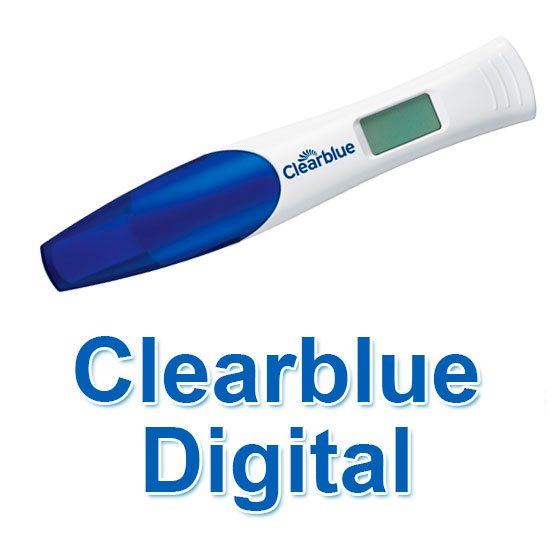 How does ClearBlue digital work?
The Clearblue Digital Pregnancy Test actually works just like a conventional pregnancy test.
The most interesting thing about this test is how it gives the result. The really interesting thing about this test is how it gives the result. And how does it show it? Well, it shows it on a little screen very similar to the old digital watches (like the Casio that became fashionable again) and it clearly indicates "Pregnant" or "Not Pregnant" which leaves no room for doubt, although it is clear that there is no infallible system and can also be wrong but the answer it gives is clear and you will no longer have to be looking if the marks are seen or not, if they are pink of course, ...
As I said, the operation is the same as in conventional tests. The digital ClearBlue has strips inside that react to the HCG hormone, the digital part "reads" and "interprets" the reactions that have occurred on the strips, indicating the result on the screen.
Another novelty is that, in case you are pregnant, you will also have the possibility to
indicates how many weeks pregnant you are
indicating: "1-2 weeks", "2-3 weeks" or "+3 weeks", although remember that for your gynecologist it will be 2 weeks more since they count from the first day of your period. The accuracy of the week of pregnancy is said to be 97%.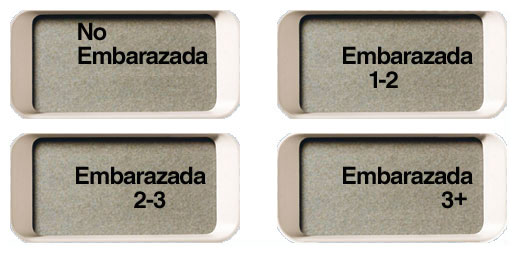 How do I use ClearBlue Digital?
Actually, you only have to follow the instructions that are very well specified but, to give you an idea and to see that it works the same as conventional tests, these are the steps you will have to follow: 1. Collect the urine in a very clean container, preferably the first one in the morning. Insert the tip of the test for 20 seconds in the container in contact with the urine. Never leave the test with the tip upwards, always with the tip downwards or in a horizontal position. 3. Now you must wait for the result to be displayed on the screen. In the meantime, a clock symbol will appear and you will have to wait approximately 3 minutes. 4. And, as if by magic, the result will appear on the screen. Sometimes it takes a little longer for the weeks of pregnancy to appear, wait a few seconds and you will see. The result will remain on the screen for 24 hours, so you can look at it as many times as you want!
When to get tested?
The laboratory that manufactures it assures that it has a reliability of 99% if it is done on the same day that we should have our period and assures us that we can take the test 5 days before, although, of course, the probability of success is lower, as follows: 98% one day before, 97% two days before, 90% three days before and 65% 4 days before, therefore, even if we are feeling our periods, we can take the test 5 days before.
early signs of pregnancy
it is better to wait a few days before taking the test, otherwise, it may give a false negative, we will be disappointed and we will have wasted a test.
As always, my recommendation is to take a pregnancy test once you confirm that you have not had your period, after a few days, if you are pregnant, whatever test you use, the possibility of error will be infinitely minimal.
What is the price of the ClearBlue digital pregnancy test?
As for prices, we know that it depends a bit on where we buy it and taking into account that this website is read in many countries it is difficult to give a data but, to give you an idea, here in Spain you can get it for around 10 €. In Amazon Spain, right now there are prices of 9 € or 18 € in pack of two.
Here in Spain you can buy it in any pharmacy, even in large supermarkets, but you know that you can also get it on Amazon, look at the prices!
Advantages:
- The result is unequivocal, that is, it leaves no room for doubt. - You know how many weeks ago you became pregnant. - It is very reliable in both results (pregnancy and week).
Disadvantages:
- The price is higher but not prohibitive.
Things that could be improved:
- Since you are paying for more than just a pregnancy test, they could make it reusable by changing only the test strips.
The only thing left to do is to be able to
choosing the sex of our baby
. Well, I won't get into it anymore. Here's everything you need to know to decide for a
ClearBlue digital pregnancy test
.
Everything you need to know if you are pregnant: pregnancy test, home pregnancy tests, first signs of pregnancy online, follow up tests. We also talk a lot about stretch marks, white stretch marks, red stretch marks, stretch mark treatments and an anti-stretch mark cream special.

ENLACES DE INTERÉS
About site
Cookie Policy
Legal Notice
Privacy Policy