Folic acid - Everything you need to know
If you already know you are pregnant, one of the first two things the gynecologist tells you during the first visit after you find out if you are pregnant are, on the one hand, asking you when your last period was to calculate the
week of pregnancy
and the second, that you start taking
folic acid
. If you still don't know if you are, see this article
free quiz pregnancy test
.
Actually, if you visit your gynecologist to tell him about your intention to have a baby, which is something we should all do so that we can have a check-up and be given the appropriate indications, he will surely tell you to start taking folic acid. In this article I will try to give answers to all those doubts we have about folic acid: What is it, what is it for, when should I start taking it, what is the recommended amount, ... Let's start!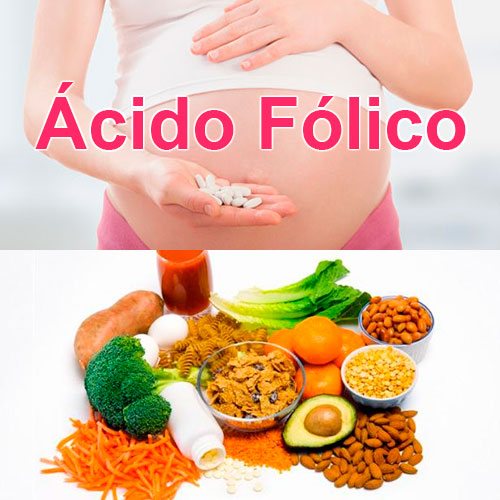 What is folic acid?
Actually, we would need to be chemists to understand what folic acid is, but for most mortals to understand, folic acid is a vitamin, specifically vitamin B9. This vitamin is found in green vegetables, legumes, nuts, brewer's yeast, ... but, unfortunately, it is lost in cooking, even when food is kept at room temperature. Actually, what you should take can be presented in different formats, generally in round pills or, like the ones I took, which the gynecologist called ovules, because they are round and plastic-like.
Many times, the same pills that the gynecologist prescribes or that we can buy at the pharmacy contain supplements of other vitamins and minerals necessary for pregnant women such as Omega 3, Omega 6, iron, ...
Who has to take it?
Although it is also used as a treatment for certain anemias or psilosis (a chronic disease of hot countries, characterized mainly by diarrhea and stomatitis), in recent years health agencies and governments advise and recommend that all pregnant women or women seeking to become pregnant should take folic acid.
Why should folic acid be taken if you are pregnant or even before?
It is very important to take folic acid for these reasons: It prevents placental deformities that would entail miscarriage, birth defects in the brain (anencephaly) and spine (spina bifida) of the baby due to poor closure of the neural tube at the cephalic and caudal ends respectively. You have probably heard of spina bifida, a birth defect in the spine, which can cause paralysis of the lower body, lack of bowel and bladder control, and learning difficulties. If the fetus suffers from folic acid deficiency during gestation, it may also suffer from megaloblastic anemia, be premature or have low birth weight. The mother may suffer eclampsia, a process that causes hypertension and albuminuria. Folic acid also helps maintain a healthy uterus.
As you can see, it is extremely important to have sufficient folic acid reserves. Therefore, since the discovery of the interaction between folate deficiency and neural tube defects, governments and health organizations worldwide have intensified recommendations concerning folic acid supplementation for women trying to become pregnant.
Where can we find folic acid naturally?
As mentioned above, folic acid can be found in the following foods:
In green leafy vegetables such as spinach, endive, peas, legumes such as chickpeas, lentils, dried beans, fortified cereals, nuts, sunflower seeds are rich sources of folic acid. Meat is poor in folic acid but, for example, we can find it in livers of meats such as beef and also in oily fish.
How long to take folic acid in pregnancy?
Remember that the specific guideline will be given by your gynecologist but, to give you an idea, it is usually taken during at least the first trimester of pregnancy.
How much folic acid to take?
The recommended daily intake of folic acid for pregnant women is between 600 µg and 800 µg. Taking into account that some folate is already ingested in the food we eat, gynecologists usually prescribe a supplement of 400 µg of synthetic folic acid. It has been established that, for pregnant women, the maximum intake should be 800µg.
Although there is no known toxic level for folic acid, there are studies that associate an excess of folic acid in the last trimester of pregnancy with the child developing asthma. That is why it is recommended to take a supplement high in folic acid before becoming pregnant and in the first trimester, which is when its deficiency would be more serious, and during the second and third trimester to take a more moderate supplement.
Where to buy folic acid?
You can get folic acid in any pharmacy. There are many different brands, all of them completely effective. Let your gynecologist prescribe the brand that he/she knows and knows gives good results, you can also consult with your trusted pharmacist. But, as it is not a prescription drug, it can be found in other stores such as department stores, in drugstores, even on Amazon.
Do men also have to take folic acid?
If you are looking for a baby, folate helps fertility in both men and women. In men, it contributes to the creation of sperm. In women, it contributes to oocyte maturation, implantation (see
fertile days
), in addition to the effects already discussed in pregnancy. Therefore, it is necessary to receive sufficient amounts through diet to avoid infertility or to take supplementation.
Well, I hope that I have helped you to clarify all the doubts you may have about folic acid. Always remember to consult with your gynecologist or doctor. It is important to communicate your intention, as a couple, to have a baby. He/she will be the one who will tell you the guidelines to follow to take folic acid supplementation.
Everything you need to know if you are pregnant: pregnancy test, home pregnancy tests, first signs of pregnancy online, follow up tests. We also talk a lot about stretch marks, white stretch marks, red stretch marks, stretch mark treatments and an anti-stretch mark cream special.

ENLACES DE INTERÉS
About site
Cookie Policy
Legal Notice
Privacy Policy